Navratri and Gandhi Jayanti and Lalbahadur Shastri Jayanti Celebration
Navratri speaks about the great battle between the powerful demon Mahishasura and goddess Durga.
Each year on each day of Navratri an incarnation of " Goddess Durga" is worshipped to celebrate the day of her victory over Mahishasura and the ultimate victory of 'Good over Evil'
Aaradhya, Shruti and Nitya from third std dressed up as devi's.
Gandhi Jayanti and Lalbahadur Shastri Jayanti is celebrated to mark reverence to the legendry men and to honour and pay tribute to the great man for serving the nation.
Mast Hamdan and Miss Sheerin of third std took part in the play.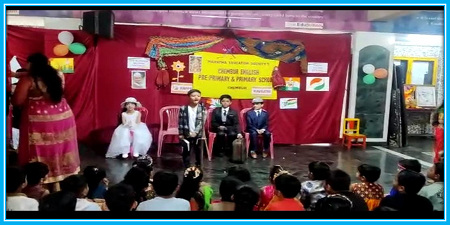 Gandhi Jayanti & Navratri Celebration
Mother and Child Navratri Contest
Chembur English Primary School, organizes Dandiya Dance Competition for parents (Only ladies).
Criteria – Best dance, Best costume and Best jodi (Mother and child).
Do come and share the joy of Navratri with us.